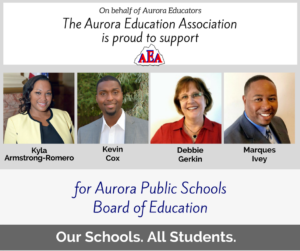 FOR IMMEDIATE RELEASE
____________________________________________
Aurora Education Association Recommends Four Candidates for Board of Education
Aurora, Colorado – September 5, 2017
The Aurora Education Association (AEA) is proud to support Kyla Armstrong-Romero, Kevin Cox, Debbie Gerkin, and Marques Ivey in their campaigns for School Board of Aurora Public Schools.
"As educators, our members are committed to ensuring that all Aurora students have the quality schools that they deserve. We are confident that these four candidates share that vision for public education and will work for increased transparency and accountability on the Aurora School Board," said Bruce Wilcox, Aurora teacher and President of the Aurora Education Association.
This Aurora Public School's election is occurring at a pivotal moment in Aurora Public Schools. The outcome of this election will likely shape public education in the metro-area in the years to come. We are optimistic of a future for APS schools with Armstrong-Romero, Cox, Gerkin, and Ivey at the helm. Their experiences as parents, educators, administrators, and as members of the Aurora Community make them best equipped to address the rising challenges facing public education such as insufficient funding and an impeding teacher shortage.
AEA's recommendation was made by a committee comprised of a diverse pool of educators following surveys and interviews of school board candidates.
###
Are you currently an Aurora Education Association member?