–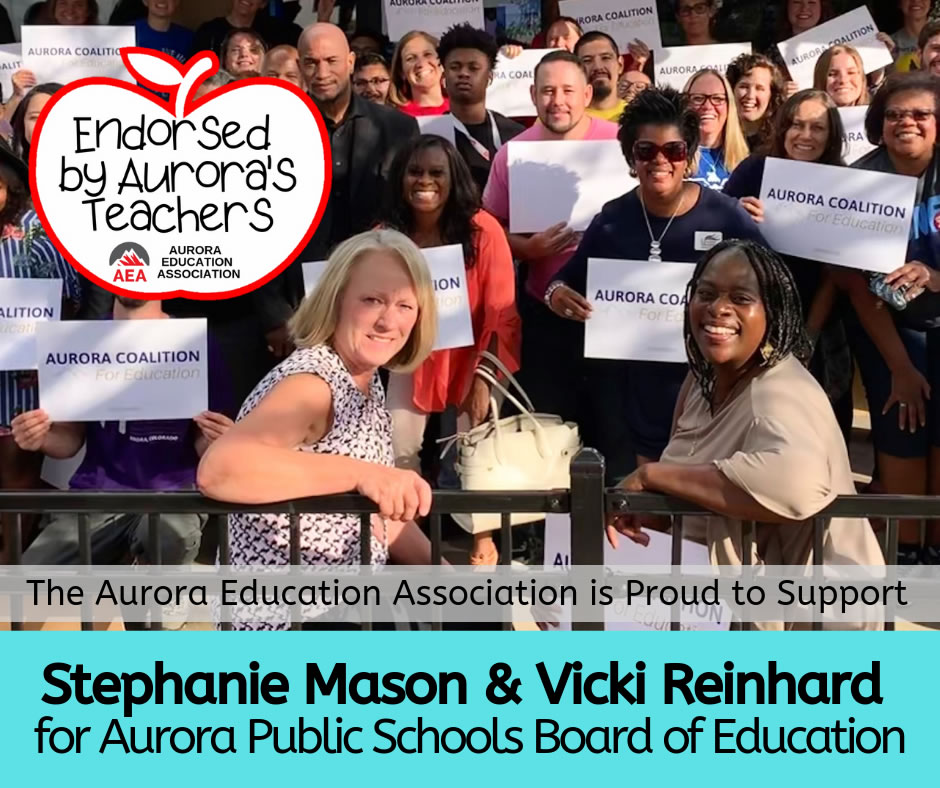 Aurora Education Association Recommends Vicki Reinhard and Stephanie Mason for APS School Board
Aurora, Colorado – August 22, 2019
The Aurora Education Association (AEA) is proud to support Vicki Reinhard and Stephanie Mason, running as the "Aurora Coalition for Education" in their campaigns for School Board of Aurora Public Schools.
Stephanie Mason is a parent of APS graduates and a grandparent of current APS students who attend Rangeview High School and Columbia Middle School. She has been actively involved in the Parent Teacher Student Organization at Columbia, for which she served as president for several years.
Vicki Reinhard is a recently retired special education teacher who spent her teaching career serving the students in northwest Aurora, most recently at Montview Elementary. She has also been a dedicated advocate for students and the teaching profession, and is the former vice president of the Aurora Education Association. She has lived in Aurora for over two decades and is the proud mother of APS graduates.
Together, these candidates are incredibly knowledgeable and make a well-rounded slate for the open school board positions. They represent a united parent and teacher front in addressing the many upcoming challenges that face Aurora Public Schools.
"We are inspired by the passion and dedication that these two women have already shown for Aurora Students, and we look forward to supporting the meaningful work they will do as school board members," said Bruce Wilcox, Aurora teacher and President of the Aurora Education Association.
This Aurora Public School's election is occurring at a pivotal moment in Aurora Public Schools. Aurora currently has several schools on year four or higher of the accountability clock and is experiencing district-wide declining enrollment. We believe that the proper solutions to these struggles should centralize community voice and dedicate district resources in a responsible and transparent way. Reinhard and Mason are well positioned to be a voice for the community in these upcoming issues.
AEA's recommendation was made by an elected committee of educators who are AEA members following surveys and interviews of school board candidates.